Keyboard section:
There are six switches in this section. They are
1: turn left.
2: turn right.
3: stop.
4: about turn.
5: park left.
6: park right.
Circuit diagram of keyboard is shown bellow.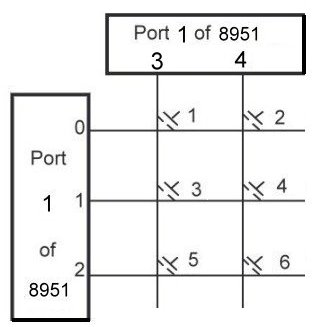 Motor:
We are using a 5V dc motor to drive the vehicle. The speed of the vehicle and its strength is controlled by the proper use of pulley. The rear wheel of the vehicle is connected to this motor through a pulley. This motor is meant for moving the vehicle both in forward and backward direction. Microcontroller (8051) controls the forward and backward movement of the vehicle in the following manner:
Here in the above circuit, T1, T2, T3, T4 are the NPN power transistor (2N3055). A0, A1, A2, A3 are the signals coming from the micro controller. With the specific combination of A0, A1, A2, A3 we can change the direction of rotation of motor as follows:
Case I:
When A0=high; A3=high; & A1=low; A2=low
The motor rotates in clockwise direction
Case II:
When A0=low; A3=low; & A1=high; A2=high
The motor rotates in anti-clockwise direction
Case III:
When A0=low; A3=low; A1=low; A2=low
The motor stops the rotation.
Stepper Motor:
A 5V dc Stepper motor is fixed at the front wheel lever directly. It enables the vehicle to rotate left or right through any angle. The electrical pulses generated from the micro controller directly control the movement of the stepper motor.
A stepper motor is an electromagnetic device that translates electrical pulses into mechanical movement.
Circuit diagram of keyboard is shown bellow. First 4 pins port 2 is connected to motor. Power transistors must be connected to drive the motor.